120pages on
this wiki
Home
November Community News
This November is one for the history books! Many highly anticipated games are being released this month, which is great news for all of you who will be going on winter break next month! One of those games being Fallout 4, which has been a hot topic for discussion on our Community App for the past month or so. Be sure to download it to join tons of other fans in everything that is Fallout. In other news, a new community: Undertale has taken the WAM leaderboards by storm and is on its way to the number one position. The game has been immensely popular on the PC platform and the community has been an organic example of what Wikia is all about. Be sure to stop by for a visit to see what all the fuss is about!
Black Ops III - Live Trailer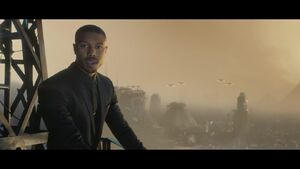 See some familiar faces in this trailer? That's probably because it's full of some famous celebrities. With the release of Call of Duty - Black Ops: III just around the corner, the folks over at Activision produced this funny trailer for fans of the franchise. Can you recognize all the famous people in it?
Holiday Themed Games
What do you think is the best holiday themed video game ever?
Popular Videos