25pages on
this wiki
Home
PAX Prime 2014

PAX Prime is one of the biggest events of the year for gamers, and Wikia is there! Check out the new game reveals, trailers, and of course the awesome cosplay pics over on our PAX hub! In addition to new PAX trailers and news, we're also doing the *clears throat* Qwizards Superfan Trivia Dungeon Adventure Quest of Doom! Take the quiz and you'll be automatically entered to win a copy of The Walking Dead issue #1 signed by writer/creator Robert Krikman!
Games of September

Top September Releases
Final Fantasy XV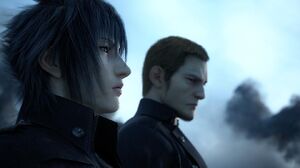 A gorgeous trailer for the much awaited Final Fantasy XV from the Japanese Game Show!
Goodbye Blizzard MMO
Blizzard has officially cancelled Titan, their mystery-MMO. Is this a good or bad call from the studio?
Popular Videos